Lou Had Better Hurry If He Wants To Look Presentable Before Tomorrow's Press Conference!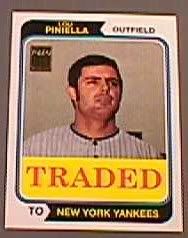 This card must have been printed early last week, when everyone still thought Dewey had won...I mean Piniella had been traded to the Yankees. Also apparently they thought Piniella could replace Sheff in the outfield.

The Cubs get Lou, who will make for some very interesting ballgames next year, if nothing else. And, as we at THS have little hope for the Cubs turning it around next year and expect a number of ugly losses, the Cubs' managing staff might to well to hire a few young guys who won't get worn out holding Lou back.

Maybe the Bears defensive line.

In memory of the moments Lou is bound to give us over the next three years, I give you: The Best Moments In The History Of Lou Piniella, as photographed by The Internet. Compiled by Todd Hundley Sucks.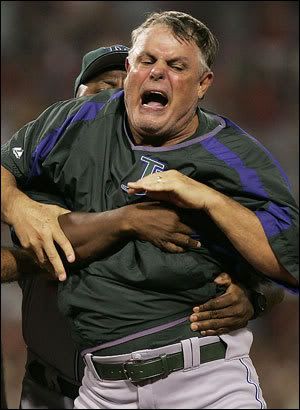 This is what we are looking forward to most of all, next year. And what a great move by John McDonough--the guy who created the "Cubs Experience", which in his mind had nothing to do with winning but instead an entertaining atmosphere--to hire Mr. Entertainment. We might even rename him Mr. Destiny, but his brother didn't die of a drug overdose to spark his career.

Also, if I were a little less lazy, that would be Urlacher or Tommie Harris or even Office Linebacker Terry Tate giving Lou the reach-around there.

This text needs to go at least down to the end of this picture, and I am running out of things to say about it. I like how Lou is prying the other coach's arm off, as if the coach just doesn't understand what is going on, that Lou will somehow set things straight if bench coach would let him finish. There we go.




Ah, smaller picture. We learn quickly. Here Lou demonstrates just how easily the dirt surrounding home plate could become airborne, distracting a hitter or umpire. Of course, the umpire did not understand, due in part to the dust that Piniella had kicked into the air, confusing him and rendering him incapable of a sound, logical discussion of the matter. I blame the dust, at least.

Alternately, Lou's Latino heritage shows in his love for soccer. Viva futbol, el mejor de los deportes del mundo! (This view is not in any way characteristic of the THS staffers, who prefer baseball, football, and competitive darts on ESPN to soccer. More so on behalf of the A-Train; however we will betray that we both found this year's World Cup somewhat compelling.)


Lou Piniella: A man who reads while having his hair permed. A man whose legs are so smooth that I am uncomfortable thinking about it. A man strong enough to know that passable is not enough, that serviceable good looks cannot win a championship. A man from whom, we can only assume, Alex Rodriguez learned a lot.

Lou Piniella knows that if losing cannot be pretty, he ought to be.

Lou Piniella, whose waxed legs and permed hair are signs of a larger greatness. Lou Piniella: American Hero, Chicago Cub.

We salute you.



Lou managed Tampa
until they cut his hair care
benefits in half.